Improving accuracy to prevent yield loss
As an active farmer from 2000 until 2010 and someone who performed custom spraying fieldwork, one of the most significant challenges I faced was spraying accurately. While spraying my farm, I never knew exactly what or how much I was getting out of my nozzles/tips. As a result, I was constantly paranoid about misapplying or having a clogged nozzle while spraying for other farmers.
Not knowing if you're doing your job correctly can be nerve-wracking, especially when you're responsible for someone else's farm. I constantly felt the need to look back and see what was coming out of each nozzle tip as I was spraying, something I call the "eye test." Unfortunately, you can't see with the naked eye whether one nozzle tip is performing at full flow and another isn't. The eye test wasn't effective, eventually taking a toll on my body and causing unnecessary stress about doing my job.
System flow is measured over an entire boom, which means that some nozzle tips could be partially blocked with some spraying an additional volume of liquid and are almost never caught with the "eye test." This is the largest cause of weed escapes, chemical-resistant weeds, and yield loss in spraying. Additionally, with the more sophisticated fungicides and insecticides, droplet size is a huge issue for chemical effectiveness. I could never accurately determine these things as any minor change in the tips, i.e., plugged or worn, along with changes in ground speed and pressure, could affect the overall yield.
Without real-time analysis of each individual nozzle pressure, flow, and droplet size, you can never have accurate spray quality; it's simply impossible. Farmers need a way to determine whether their sprayers are working effectively and efficiently to provide them with peace of mind that they won't have to worry about yield loss due to weeds or the ineffectiveness of certain chemicals due to inconsistent droplet size.
While this technology didn't exist when I was farming, I'm proud to work with a company that has developed products to make your equipment more effective by helping you monitor your spray quality from inside the cab through an app, with every tip monitored in real-time. This means if you change ground speed or system pressure during spraying, the system can tell you exactly how it affects your spray quality. The solution is Recon Spraysense(™) by Intelligent Ag.
With the Recon SpraySense™, farmers can prevent yield loss by detecting problems before it's too late. With pre-loaded specifications for over 1,100 nozzle tips, SpraySense™ provides you with intuitive information that facilitates accuracy every time. If you don't have the right pressure, floss, and speed, Recon SpraySense™ will notify you before you start spraying and alert you when any nozzle becomes partially blocked or worn. Now, farmers like you don't have to worry about weed escapes or chemical-resistant weeds due to misapplication.
Today, no farmer has to do the eye test to try to determine if there's a problem with their sprayer, giving applicators peace of mind knowing they are accurately spraying crops.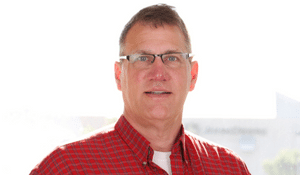 Russ Drenth
Director of Sales
Russ was born and raised on a dairy and grain farm in Northeast Iowa, where he became a farmer for over a decade while performing fieldwork for other farmers. He has spent over 25 years in agriculture equipment development, sales management, and product marketing.